Plumber in Beverly Hills, CA
Are you looking for a trained and uniformed plumber in Beverly Hills? If so, then you are at the right place. Rooter Man is proud to serve all areas of Beverly Hills with quick, reliable, and affordable plumbing services. Our live representatives and dedicated plumbers are on standby for your call. We are happy to schedule a convenient appointment or arrange an emergency plumbing repair today.
Hire Uniformed Plumbers in Beverly Hills
You don't want to leave your residential plumbing system in the hands of just anyone. When you choose Rooter Man, you are hiring uniformed plumbers from a reputable business. At Rooter Man, we are not only committed to delivering exceptional plumbing service. We are also dedicated to extraordinary customer service.
Our plumbers in Beverly Hills know that when they're working in a client's home, they're not just there to fix pipes - they're there to take care of a person's property. Our plumbers use shoe covers to keep your carpets and floors clean, and they take the time to lay down protective materials to keep your floors safe from scratches, scuffs, or debris. In short, our uniformed plumbers will treat your home as if it were their own, with care and consideration at every step of the way.
Enjoy Honest & Transparent Pricing
Providing affordable and quality plumbing service in Beverly Hills is a challenging balancing act for us, but we have found success. Our secret is investing in our plumbers and creating great relationships.
We hire some of the most passionate and experienced plumbers and provide regular training as well as advanced equipment. We also work with suppliers and manufacturers to buy quality materials and parts for the best prices.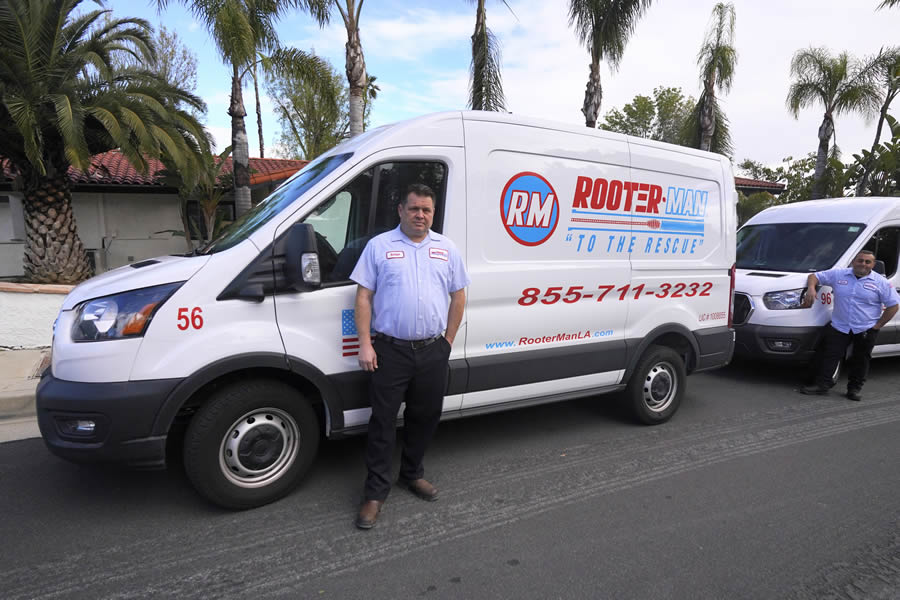 When you choose Rooter Man, you get to enjoy some of the most competitive prices in the area but we don't stop there. We regularly share special discounts, coupons, and promotional offers on our website. So, explore our web pages to find applicable opportunities.
We are confident in our prices. So much so that we are prepared to give clients a price quote BEFORE the work begins. If we say we can get it done, then we will get it done. Call Rooter Man to schedule your plumbing repair or plumbing service in Beverly Hills today.
Your One-Stop-Shop Plumbing Company in Beverly Hills, CA
Rooter Man is an established full-service plumbing company. Whether you need a quick plumbing repair or a fresh installation, the plumbers at Rooter Man are ready to help. We have you covered with everything from drain cleaning and plumbing inspections to repiping and appliance installations. Call Rooter Man at any time of the day to speak with a friendly representative and let us know what you need.
Emergency Plumbing Repair Available
Do you need a plumber to take care of an urgent plumbing repair in Beverly Hills TODAY? If so, then you are at the right place. Rooter Man is proud to offer emergency plumbing repair, drain cleaning, clogged drain line repair, sewer repair, trenchless sewer line replacement, leak detection, water leak repair, water heater repair, tankless water heater installation and septic tank pumping at all times of the day. Our live representatives and dedicated plumbers are ready to take your call and arrange an urgent dispatch as soon as possible.