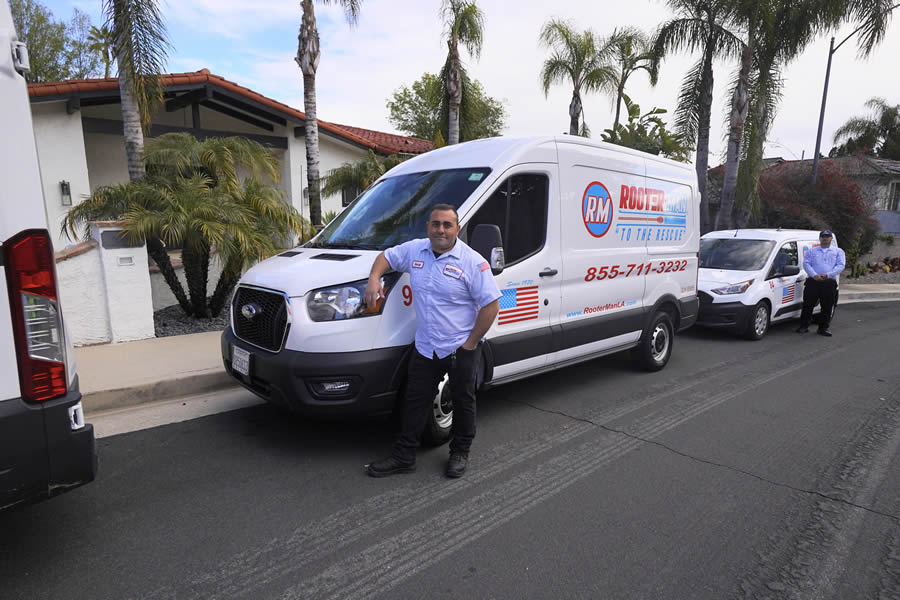 Plumber in Van Nuys, CA
Without proper plumbing systems, we wouldn't have access to clean water, functioning toilets, or the underrated luxury that is hot showers. If you want to enjoy your residential plumbing for as long as possible, then routine plumbing service is mandatory. If the damage is done, then schedule a timely plumbing repair. When you need a uniformed plumber in Van Nuys, just grab the phone and call Rooter Man. We are an established full-service plumbing company happy to schedule a convenient or arrange emergency plumbing at any time of the day.
Leave the Installation and Replacements to the Pros
The plumbing system is a core component of your building, responsible for bringing clean water to and removing waste and wastewater from the premises. Similarly, plumbing fixtures and appliances offer a level of convenience our ancestors could only dream about.
These centerpieces of modern living are not granted, however. The installation process is time-consuming and sensitive, which is why you should leave the installation and replacements to the professionals. Though DIY work might save you some money in the short-run, you could end up dealing with big headaches down the line.
Whether you need a water heater replaced or a pipe installed, the experienced plumbers at Rooter Man are ready, willing, and able to help.
Prevent Unexpected Repairs
The plumbing system provides great value, and you are going to have to put in time to enjoy it. When you invest that time is another story. You could wait until trouble arises and deal with the problem then, or you could get ahead of the problem and employ preventative measures.
If you want to prevent unexpected repairs from interrupting your schedule, then have plumbers in Van Nuys periodically inspect your plumbing system to ensure your plumbing system is working properly. Routine inspections can help detect issues early on and nip them in the bud.
Schedule Timely Repairs
Routine plumbing service in Van Nuys can prevent unexpected repairs, but you cannot avoid repairs altogether. Wear and tear, accidental damage, and the forces of nature cannot be tamed. In these cases, however, it's important to take care of the plumbing repair as soon as possible.
The way we see it plumbing repair in Van Nuys today is better than a plumbing replacement tomorrow. Acting quickly to call in plumbers can prevent small issues from snowballing into big problems. Why wait for that clogged drain to turn into an overflowing sink? Call Rooter Man to have a uniformed plumber come by as soon as possible.
Transparent Pricing
Hiring plumbers does not have to involve guessing games or surprise fees. When you choose Rooter Man, you can enjoy honest and transparent pricing. When you call Rooter Man, you can ask about our prices and fees. Though the plumber may have to inspect the problem first, we can always give you a price quote BEFORE the work begins.
Emergency Plumbing Repair in Van Nuys, CA
Plumbing disasters can strike at any given moment, and Rooter Man is ready to strike back. If you need emergency plumbing repair, drain cleaning, clogged drain line repair, sewer repair, trenchless sewer line replacement, pipe repair, leak detection, water leak repair, water heater repair, tankless water heater installation, or septic tank pumping in Van Nuys, just grab the phone and call Rooter Man to speak with a live representative.