Plumber in Orange, CA
The plumbing system is a cornerstone of modern hygiene and public health, and it has been developed to be incredibly reliable. Still, it is not perfect. Clogs, leaks, and other issues can arise at any given moment. The good news is that plumbing repair in Orange, CA is just one call away. Homeowners in the area can call Rooter Man to schedule routine plumbing service or even emergency plumbing repair. Our uniformed plumbers in Orange, CA are trained and experienced to work on a wide range of residential plumbing issues. Call Rooter Man now to speak with a courteous member of our team.
Worried about your plumbing system? Let a uniformed plumber inspect.
When is the last time you inspected your plumbing system? If it has been over 2 years since you have had a professional inspect your plumbing system, then it might be time to schedule an appointment. Many plumbing issues start deep in the plumbing system, often behind walls and under floorboards. If you can catch these issues early on and nip them in the bud, you could prevent unexpected repairs, interruptions to your schedule, and unnecessary expenses.
Call Rooter Man to schedule routine plumbing service in Orange, CA today. Our uniformed plumbers have the expertise and cutting-edge technology to detect, diagnose, and resolve issues at the root.
Common plumbing service and repairs we offer.
The plumbing system is relatively simple and extraordinary at the same time. A properly installed system is incredibly reliable but there are a host of issues that can arise. There are also many services available to boost the efficiency and effectiveness of your system. Here are some of the services and repairs we offer clients in Orange, CA: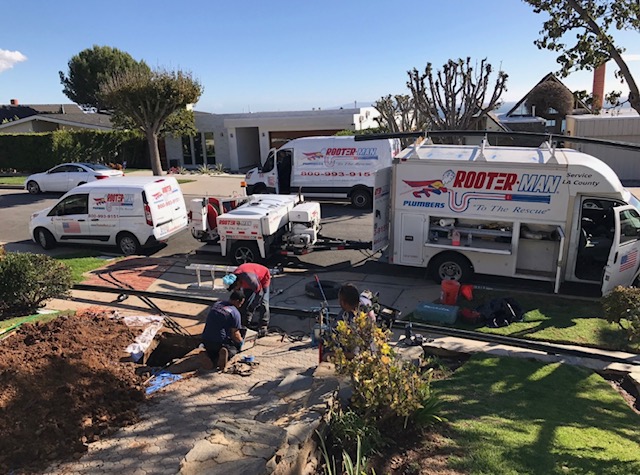 Clearing clogged drains and toilets.
Repairing, replacing, or installing faucets, toilets, showerheads, and other plumbing fixtures.
Fixing leaks in pipes, drains, toilets, and other plumbing fixtures.
Repairing, replacing, and installing residential water heaters.
Repairing, replacing, and installing water filtration systems.
And much more.
If your plumbing system is giving you problems, or if it is time to upgrade or replace a part of the system, then call Rooter Man to schedule an appointment with a qualified plumber in Orange, CA today. Our courteous representatives are ready when you are.
Emergency Plumbing Repair Services in Orange, CA
Many homeowners make a shortsighted mistake: brushing off common plumbing issues like clogs and leaks. In reality, clogs can turn into overflowing sinks and toilets, and small leaks can waste thousands of gallons of water throughout the year. A leak can even turn into a burst pipe in the blink of an eye.
To make matters worse, homeowners too often ignore these plumbing issues because they are worried about pricing. The fact of the matter is that these small issues can turn into BIG problems and cost you more in the long run!
Don't let pricing keep you from enjoying reliable plumbing. At Rooter Man, we offer competitive prices as well as regular discounts and coupons. We are even happy to give you a price estimate BEFORE the work begins.
Emergency plumbers are on standby.
Do you need a plumber NOW? We are proud to offer drain cleaning, clogged drain line repair, sewer repair, trenchless sewer line replacement, leak detection, water leak repair, water heater repair, tankless water heater installation and all other plumbing services in Orange, CA. Rooter Man's plumbers in Orange, CA are on standby to take your call and dispatch to your location as soon as possible.