Septic Pumping & Cleaning in Downey, CA
Septic pumping and septic cleaning in Downey, CA is just one call away thanks to the professionals at Rooter Man. If you are experiencing sewage backups or slow drainage, or if it is time to empty the septic tank, then call Rooter Man to schedule an appointment or emergency septic tank pumping today. Our live representatives and uniformed septic professionals are on standby to take your call at any time of the day.
What is septic tank pumping?
The average septic tank is a water-tight container buried underground and can hold about 1,000 to 2,000 gallons. There are features of the septic system that make the most of this limited space, but these only slow down the inevitable. For instance, solid wastewater readily flows out of the septic tank and the remaining solids in the tank are broken down into dense, space-saving sludge. Still, the sludge levels will accumulate, albeit more slowly.
Septic pumping in Downey involves using a specialized truck with a vacuum equipped to suck out a majority of the waste from the septic tank. Failing to do this on time will allow sludge to enter pipes, cause blockages and leaks, and even result in a system failure.
How often to pump the septic tank
There are many types of septic systems, and each comes in a variety of sizes. This is to say the frequency of your septic pumping depends on a number of factors. The general rule of thumb, however, is to pump the tank once every 3 to 5 years. In essence, you should pump the tank before the solid waste and scum have a chance to reach the septic tank's inlet and outlet pipes.
If you are not sure when your septic tank was last pumped, or if you notice slow drainage, wastewater backups, and sewage smells, then it might be past time to schedule septic pumping in Downey.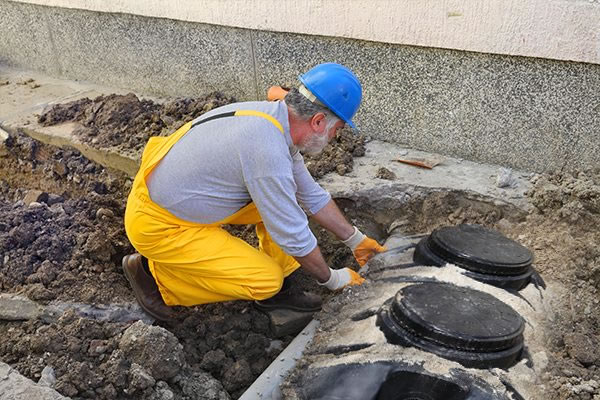 What is septic tank cleaning?
Many people think septic pumping and septic cleaning are the same, but there is a difference between the two. In short, septic cleaning is a more comprehensive and thorough job that involves pumping the septic tank as well as deep cleaning its walls and its nooks and crannies.
Septic tank cleaning in Downey is usually advised if the tank has not been pumped in over 5 years, or if the solid waste and sludge levels are at dangerous levels. If you do not know when your septic tank was last pumped, then a thorough cleaning can give you a fresh slate to work with.
Schedule Septic Cleaning Service in Downey, CA
Though DIY septic cleaning is possible, it is usually not feasible. A wastewater treatment system cleaning might sound like a simple job, but it involves a lot of dirty work as well as a specialized truck and equipment. Hiring professionals is a more cost-effective and reliable route to take.
At Rooter Man, we offer competitive prices and regularly share special discounts, coupons, and promotional offers on our website. Explore our webpages to find applicable opportunities and call Rooter Man to schedule a convenient appointment or request an urgent septic pumping in Downey today.