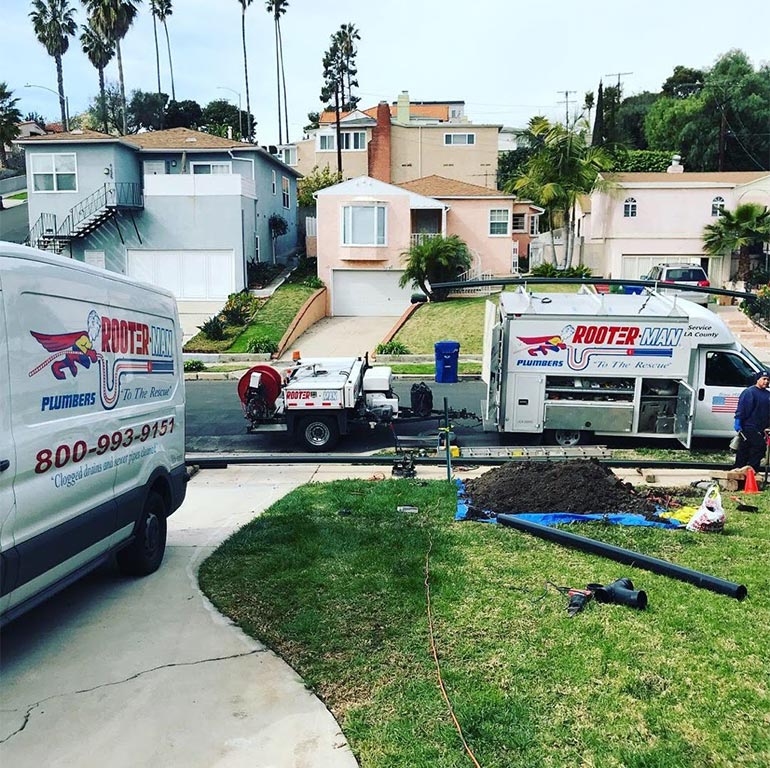 Septic Pumping & Cleaning in Sylmar, CA
Septic tank pumping in Sylmar is the most vital element of maintaining an efficient and healthy system. Although septic units can function for many years without showing signs of damage, it doesn't mean everything is in good condition. Delaying regular septic cleaning and maintenance allows minor issues to grow and wreak havoc in your home. Many people wait until an emergency to schedule septic pumping, but it only increases the severity of the damage. Rooter Man Plumbing can help you understand the importance of septic tank pumping in Sylmar.
It's Time
Several factors determine when to hire a septic service in Sylmar for maintenance and pumping: tank size, number of people, and garbage disposal. While industry experts usually recommend pumping every three to five years, it varies from one system to another. You risk severe damage and costly repairs if you can't remember your last inspection or septic cleaning session. When you need septic cleaning in Sylmar, we go the extra mile to check for signs of deterioration and address the issue. Even if you don't think it is necessary, professional septic tank cleaning and maintenance is a safe approach if it's been a while.
Excess Buildup
Waste buildup is the most apparent reason for wastewater treatment system cleaning. If you take too long before calling a reputable septic service in Sylmar, solid waste will fill the tank, causing severe damage that requires more than a simple pumping. We can customize septic pumping in Sylmar, ensuring waste doesn't reach dangerous levels. If you notice sewage odors emanating from your drains, it's best to schedule septic tank pumping before things get out of hand.
Prevent Backups and Other Issues
Another reason to consider regular inspections and wastewater treatment system cleaning is to prevent backups, leaks, sewage odors, and slow drains. Preventive maintenance might not be the first thing that comes to mind, but it can save you a lot of money in the long run. Not only are septic problems a nuisance and gross to handle, but they can cause further deterioration to your system and home. Please don't wait for minor problems to grow; consider septic pumping in Sylmar.
Remove Problematic Items
Homeowners usually know the basics of septic system function—however, only some check what goes down the drain or toilet. Dumping anything labeled "flushable" or organic may seem like a good and convenient disposal option, but it risks blockages and backup emergencies. Septic tank pumping gives you peace of mind knowing your system is free of problematic items, so you don't repeat these mistakes.
Even if your plumbing doesn't show signs of damage, it may not be running at high performance. The best way to restore efficiency is to conduct routine septic cleaning in Sylmar. Maintenance inspections between sessions go a long way toward addressing minor issues on time. Contact us at Rooter-Man Plumbing to schedule a consultation with our experts. We guarantee top-notch septic tank cleaning and maintenance without breaking the bank.